Welcome to the Tennessee state website for Dizzy Dean Baseball & Softball. This site was established for the communities and young people who play Dizzy Dean Baseball and Dizzy Dean Softball in the state of Tennessee. If you would like to become a Dizzy Dean sponsored recreational facility, please contact any National Director.
2023 Pace - of - Play rules for Major League Baseball
will not apply to Dizzy Dean Baseball or Softball
Example: Pitch Clock, Limiting number of pick off attempts,
Stepping in and out of the batters box, etc.
Minors go to Regulation Baseball

Bases will now be 65ft.
Leading off will now be allowed / stealing at any time
Dropped 3rd strike rule will be in effect
2023 World Dates have been set!
Start making your plans.
Baseball - ALL AGE GROUPS will check in on Monday June 26 and begin play on June 27.
Softball - ALL AGE GROUPS will check in on Thursday July 6 and begin play on July 7.
DIZZY DEAN BASEBALL/SOFTBALL PATCHES ARE ONLY REQUIRED FOR TOURNAMENT PLAY.
Attention park administrators and park board
members please read.
Snowden Grove and Greenbrook parks are now turf fields. Metal cleats will not be allowed, only molded cleats or turf shoes will be allowed in any age group.
The Dizzy Dean National Executive Board has voted unanimously to add as a legal bat for Dizzy Dean Baseball the 1.15 BPF APPROVED BAT for ages 12 and under. The USA bat is still a legal bat.
Protect Youth Sports
The Protecting Young Victims from Sexual Abuse and Safe Sport Authorization – Senate Bill 534 was signed into law on 02/14/2018. The online Child Safety Training is of no charge to anyone who runs a background check through Protect Youth Sports and needs to be completed every year prior to stepping on the field.
REMINDER:
If a pitcher reaches a day(s) of rest threshold while facing a batter, the batter reaches base; (2) that batter is retired or (3) the third out is made to complete the half-inning or the game. The pitcher will only be required to observe the calendar day(s) of rest for the threshold he/she reached during at-bat, provided that pitcher is removed or the game is completed before delivering a pitch to another batter.
Decertified Bats
Effective immediately, the bats depicted below have been decertified by USA Baseball and are no longer approved for play in leagues that have adopted the USABat Standard, including but not limited to the American Amateur Baseball Congress (AABC), Babe Ruth & Cal Ripken Baseball, Dixie Youth & Dixie Boys Baseball, Little League Baseball, NABF Baseball, and PONY Baseball.
On January 1, 2018, USA Baseball implemented the USABat Standard for non-wood youth baseball bats. Under USABat, approved bats that feature the USA Baseball mark are performance tested and required to perform at a wood-like standard. The bats listed below have been compliance tested and ruled non-compliant under the USABat Standard.
Team representatives are asked to check your team's bats and withhold these bats from play if your team is in possession of any. League administrators are asked to share this information with your umpires. If any of these bats are attempted to be used during competition, it should be considered an illegal bat and subject to league rules regarding the use of illegal or unapproved bats.
---
30-Inch Easton Ghost X (-10) 2 5/8" (YBB18GX10 & LL18GHX)

The Easton Ghost X 30/20 YBB18GX10 and LL18GHX 30/20 2 5/8" has been decertified by USA Baseball and is no longer an approved bat under the USABat Standard. This applies to the 30" (-10) length of the Ghost X YBB18GX10 and LL18GHX. All other certified lengths and drops of the Easton Ghost X USABat remain approved for play. A full list of approved bats can be found at https://USABat.com
Customer Information: Any questions regarding returns, refunds or warranty claims for the Easton Ghost X 30/20 should be directed to Easton via email at ghostreturn@easton.com or at 1-844-531-7079. Any questions regarding this decertification may be directed to USA Baseball at USABat@USABaseball.com.
THE FUTURE OF BATS
Changes in bat standards effective 2018
read more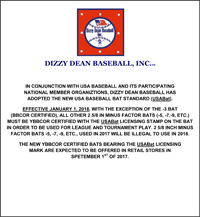 Rule 3:07 Batting all available players is allowed in COACH PITCH AGE GROUPS, This is only an option. Playing 10 in farm league is allowed.
1. Opting to bat all available players must be declared before the game starts.
2. If this option is used, you must finish with the same number of batters you started with.
3. If this option is used and a player cannot bat in their allotted slot, an out will be called every time that player is scheduled to bat (remainder of the game).
4. Minimum number of players (10) in farm league and 9 in minor and freshman must be maintained at all times. (PENALTY: Forfeit).
5. If batting all available players, "Free Defensive Substitution" is allowed. Batting order must be maintained at all times.
6. No free substitution for pitcher. That is still governed by pitching rules.
In all cases including changing their legal residence, the National State Executive Board of the state in which you reside, must approve this. Refer to Common Rule 7:04.
15.03
The National State Executive Board of each state will determine the guidelines/eligibility for all player transfers within their state. All transfer requests must be turned in to the age group director. Before first league game, all transfers must be approved by the National State Executive Board of the state which they reside. Any boy/girl regardless of number of years associated with Dizzy Dean, playing at Dizzy Dean sanctioned parks, regardless of age, or if he/she is an All Star or not, regardless of extenuating circumstances, will be eligible to transfer to another Dizzy Dean sanctioned park, with the approval of both home park President of player and President of park transferring to. All requests must be turned in to age State Director who will meet with National Executive Board. Parks will be notified of transfer request decision. All transfer request forms must be completed and turned in with the league sanction paperwork. ALL REQUEST FOR TRANSFERS MUST BE IN THE HANDS OF THE STATE DIRECTOR BEFORE FIRST GAME OF THE SEASON FOR PLAYER TO BE CONSIDERED FOR TRANSFER.
Official Baseballs and Softballs
for Tennessee Dizzy Dean